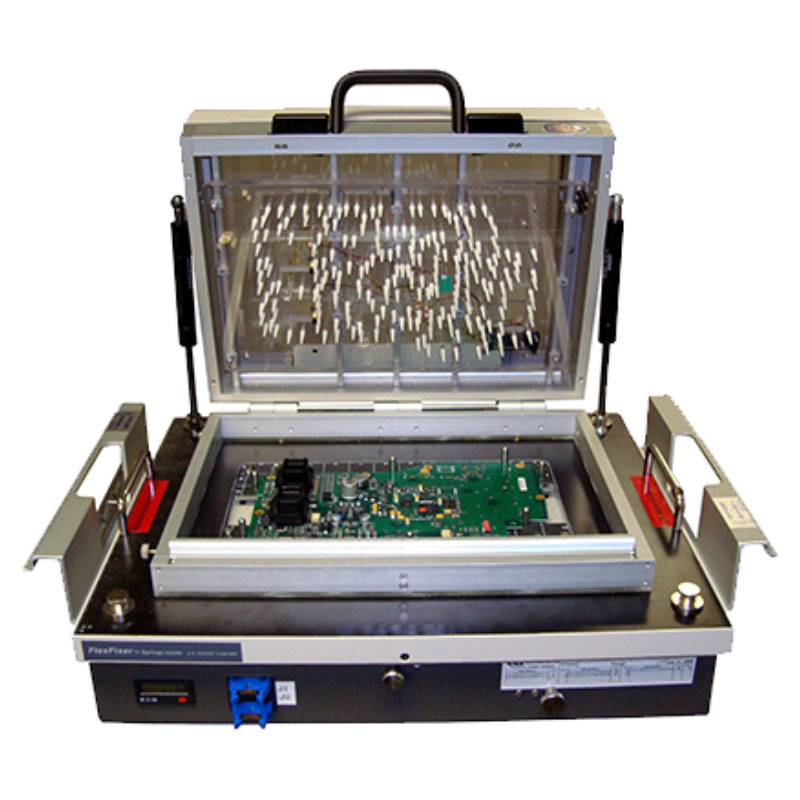 JIGS & FIXTURES
---
Kyoritsu Electric India is one of the prominent manufacturers/suppliers for ICT Test Jigs & Function Test Jigs.
We have a State-of-the-art infrastructure for manufacturing test jigs. We offer ICT Test jigs for Kyoritsu brand machines, as well as for other brands like Agilent, Teradyne, Seica, Spea, TRI, OKANO, etc. We have a dedicated team of experienced engineers for ICT/ FCT Test Jigs development & technical support including pin fixture development, fabrication & debugging.
Localized team & resident engineers in major metropolitan cities Mumbai, New Delhi, Pune, Bangalore, Chennai provides prompt service support for on-site fixture installation to customers. Our fixture house has the capacity to develop 70 80 Jigs / Month.
Compliance as per ISO 9001:2015 standards followed.
We'd love to help you boost your production efficiency. Contact us.
As leading ICT fixture manufacturers, we provide high-quality jigs and fixtures designed specifically for In-Circuit Testing (ICT) of printed circuit boards (PCBs).
Our ICT jigs and fixtures ensure precise and reliable testing, helping you identify defects and ensure the functionality of your PCBs. Our PCB test jig fixtures are custom-built to accommodate different PCB sizes and designs. They provide secure positioning and accurate alignment, ensuring consistent contact with the test points on your PCB during the testing process.
With our jigs and fixtures, you can streamline your testing procedures, reduce test cycle times, and improve overall testing efficiency. Our testing jigs for PCBs are meticulously designed and manufactured to meet the highest standards of quality and performance. We understand the critical role that accurate testing plays in ensuring the functionality and reliability of your electronic assemblies.
That's why we prioritize precision and reliability in our ICT jigs and fixtures, providing you with the tools necessary for accurate and efficient PCB testing. Partner with us for your PCB testing needs and experience the benefits of our high-quality jigs and fixtures. Our expertise in ICT testing, combined with our commitment to customer satisfaction, makes us the trusted choice for reliable and accurate PCB testing solutions.