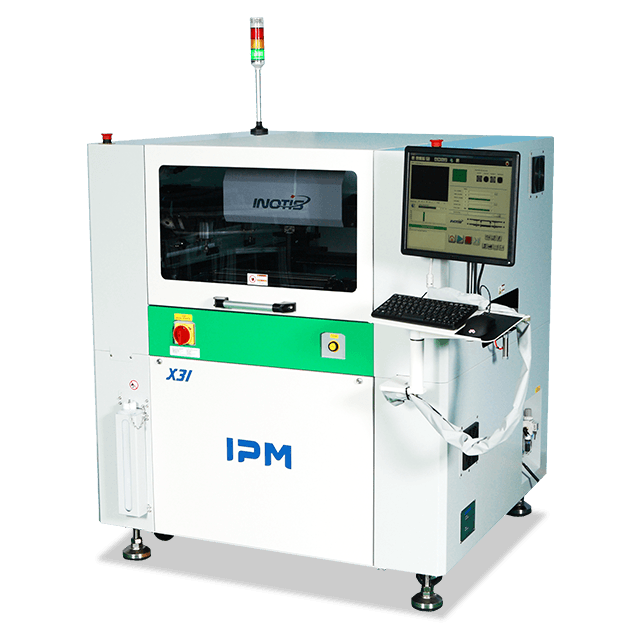 Brand: INOTIS, Korea
PCB SCREEN PRINTER
---
Used in SMT lines after AOI, separates NG PCBs.
Motorised 3 stage Conveyor system ensures a reduction in the waiting time for PCB transfer
PCB Push-Down Unit is used for big size PCB to prevent warpage
RPSS Control which displays & controls real-time pressure for squeegees
Built-in MES and Barcode Port
Built-in Cp, Cpk Generator
Suitable design for BTB Layout
We'd love to help you boost your production efficiency. Contact us.
 

ITEM

Model
X5L
X6L
X8L
 

Metal Mask

rame Size
650*550mm
650*550mm
1000*1000mm
736*736mm
736*736mm
Print Origin
Center
 

 

PCBA

Min Size
50*50mm
Max Size
510*510mm
610*510mm
800*400mm
Thickness
0.4 – 6.0mm
Weight
Max 3.0Kg
Max 4.0Kg
Max 5.0Kg
 

 

 

 

Conveyor

Pass Line
920±30mm
Stage
Single Stage
Belts
Flat Belts(Anti-Static)
Time Belts
Clearance
Less Than 5.0mm both side
Components
+20mm / -20mm
Clamping
Edge / Vacuum Chamber / Multi-Point Clamp / Top Clamp
Width Adjust
Motorized Width Adjustment
Cycle Time
PCB Moving
7.5 Sec
8.5 Sec
10.5 Sec
Model Change
Less Than 10 min
Accuracy
Repeatability
±15 um
Squeegee
Material
Metal / Urethane
Direction
Front <-> Rear
Interface
SMEMA
Power
1Ø 200-230(VAC), 50/60(Hz), Less Than 2.0 KVA
Pneumatic
5-6 (bars) , 10Ø Air-hose,Max 150 l/min
Dimension
W*D*H
1428*1394*1548
1600*1530*1548
1750*1530*1548
Weight
Approx
950 Kg
1000 Kg
1100 Kg
Similar Products
_

SMT Line Solutions

_
When it comes to producing high-quality printed circuit boards (PCBs), precision and accuracy are paramount. At Kyoritsu Electric India, we offer advanced PCB screen printing machines that deliver exceptional results. Our PCB screen printers are designed to meet the demanding requirements of modern electronics manufacturing, providing precise and reliable printing solutions.
Our PCB screen printing machines utilize state-of-the-art technology to ensure optimal printing performance. Equipped with advanced features such as automatic stencil alignment, adjustable squeegee pressure, and precise control systems, our machines deliver consistent and accurate printing results, even for complex PCB designs.
One of our key offerings is our automatic PCB screen printing machine, designed for enhanced efficiency and productivity. This automated solution eliminates manual intervention, enabling continuous and uninterrupted printing operations. The automatic PCB screen printing machine streamlines your production process, reducing labor costs and increasing throughput.
Additionally, we provide comprehensive technical support and maintenance services to ensure optimal performance and minimize downtime.