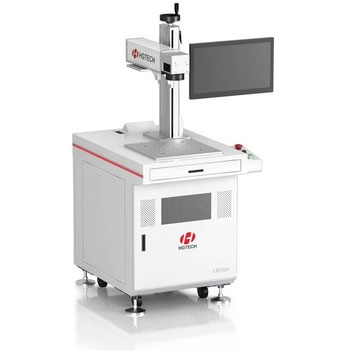 Brand: HG TECH, China
OFFLINE LASER MARKING
---
Fiber laser marking machine has many models to satisfy 3C electronic products manufacturers.
We'd love to help you boost your production efficiency. Contact us.
With international high-quality fiber laser, it can mark all sorts of precise patterns according to customer requirements
Multiple power laser light source, available for many industries
Fast speed, high efficiency, stable output power, high reliability
Long life, maintenance-free within 100,000 hours, operated in 24 hours and severe working condition
High electro-optic conversion efficiency, little energy coupling loss, less power consumption with just 0.5 KW/Hour
Small and compact size, easy to carry, save production space
Model
LSF10
LSF20
LSF30
LSF40
LSF50
Average Output Power
10W
20W
30W
40W
50W
Linear Speed
≤7000mm/s
Marking Area
70×70mm  110×110mm
Min Character Height
0.2mm
Marking Depth
0.4mm(depending on materials)
Min Linear Width
0.01mm
Power Supply
AC 220V 50KHz
Protective Cover
Optional
Similar Products
_

PCBA TOOLS AND OTHER PERIPHERALS

_
Our offline laser marking machines provide cutting-edge technology for precise and efficient marking of printed circuit boards (PCBs). These advanced machines utilize laser technology to create permanent markings, such as serial numbers, barcodes, logos, or other custom designs, on PCBs.
With our offline laser marking machines, you can achieve high-quality and precise markings with exceptional speed and accuracy. The heart of our offline laser marking machines lies in the offline laser marking control board. This control board ensures precise control and coordination of the laser beam, enabling accurate and consistent marking results.
With customizable settings and intuitive interfaces, our control boards allow for easy programming and adjustments, ensuring that your desired markings are achieved with precision.
Investing in our PCB laser marking machine brings numerous benefits to your production process. Offline laser marking provides flexibility and efficiency as it allows marking operations to be performed separately from the production line, eliminating any disruptions to the manufacturing flow.
Our machines are designed with reliability and durability in mind, ensuring long-lasting performance and minimal maintenance requirements.