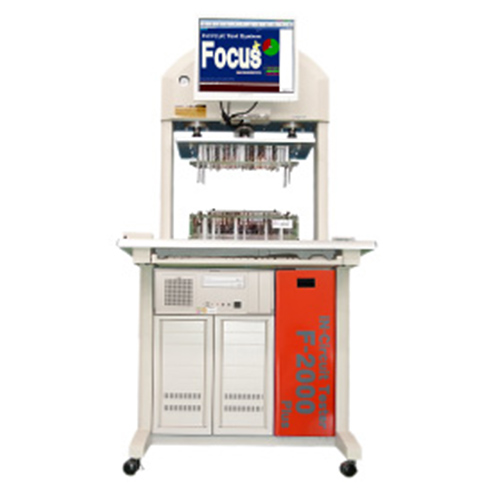 ---
Brand: Kyoritsu, Japan / Product: In-circuit Tester
ICT FOCUS 2000 PLUS
---
Fastest in the industry – 2.5 times faster testing speed than conventional reed relay based tester
Patented Ultra Advanced Solid-State Switching Technology and direct computer control to measurement boards without using a co-processor
Assured detection of solder bridging in the production PCB, missing components, the incorrect value of inserted components, the wrong type of component inserted, misaligned component
Industry 4.0 ready, highly user-friendly software
Lightweight, compact, easy mobility
Large scale applicability in Automotive, Consumer Electronics, Industrial Electronics, Communication Systems, Medical Equipment, Aerospace and Defense, etc.
Low ownership, Maintenance-free
Greater Test Coverage and Direct OEM support
Built in self-diagnostic board to check the condition of measurement board.
Maximum test points/nodes can be test upto 2048. Also expandable 2049 to 16000 nodes/pins
We'd love to help you boost your production efficiency.
Contact us.
| | |
| --- | --- |
| OS | Windows10 |
| CPU | Celeron G540 |
| Display | 17inch color LCD display |
| Power supply | AC100V~240V ±10%(50/60) |
| External interface | RS232C Ethernet USB(2.0) |
| Panel size(Typical) | 420mm×330mm Standard |
| Printer | Thermal(paper width:57mm single color) |
| System dimension | 730mm×800mm×1540mm |
| Air pressure | 0.4~0.6Mpa(Dry clean air) |
| Environment condition | Temperature:10℃~30℃, Humidity:0%~80% |
| System weight | 130Kg |
| Power consumption | 130VA |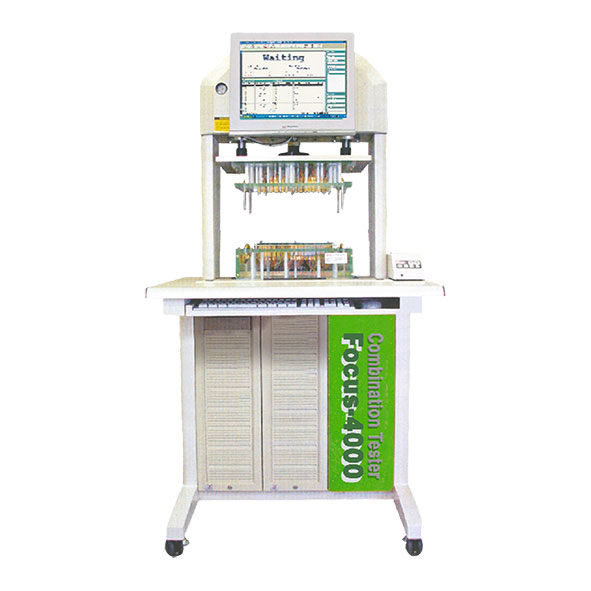 ---
FCT FOCUS 4000
Focus 4000 is combination of powerful ICT Focus 2000 & FX series modules
Function Testing Modules: Digital Oscilloscope, Digital multimeter, Open/short test, digital I/O, Relay Unit, Programmable Power Supply
Optional function : CAN/LIN/K-Line communication test, IC Programming
User friendly Windows 10 OS
Easy Maintenance and user friendly System software
Industry 4.0 ready
Built in self diagnostics board to check condition of measurement board
Low cost, compact and modular structure
We'd love to help you boost your production efficiency.
Contact us.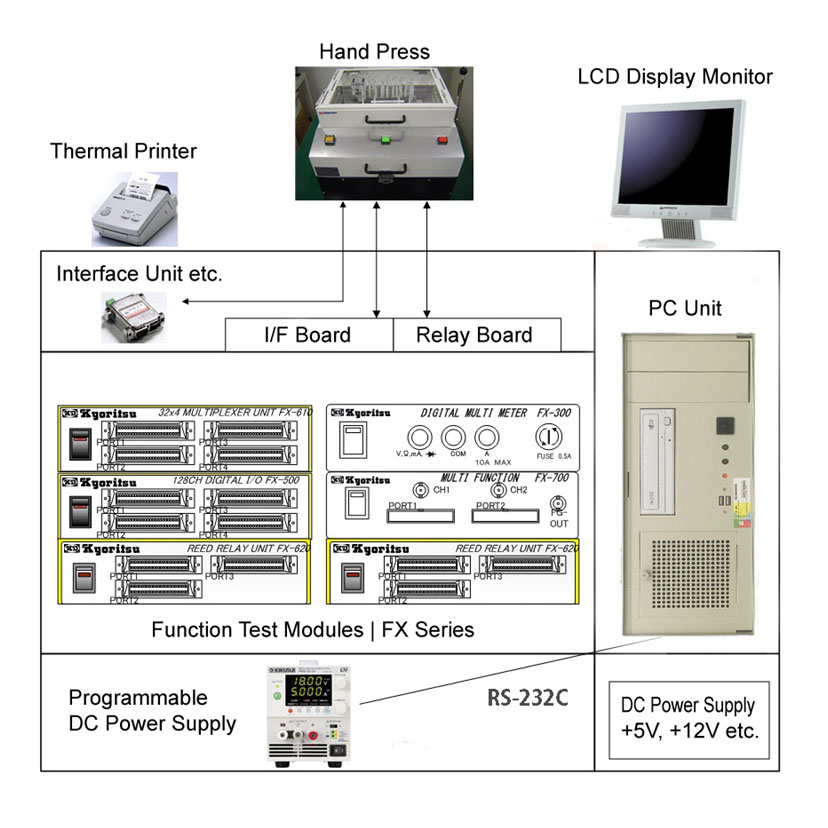 ---
FUNCTION TESTING MODULES
---
High Speed Test
Each and every pin test
Super compact size
Use semiconductor Photo MOS relay
USB 2.0 Controlled for FX-Modules
OS Windows 10
Function software FX-Builder
These functional modules can be used :
as an independent measurement unit
as part of measurement system
as a measurement system
Inspection application
Will design FX Builder/Tester or specified software as per requests.
Measurement instruments
FX300: Digital multi meter module
FX500: Digital I/O module
FX610: Multiplexer module
FX620: Relay module
FX700: Multi function test module
FX710: Multi source meter module
[Note] Existing measurement products can be integrated.
Power supply
Control ready-made stable power supply(Voltage・Current)
Communication
Compatible for RS232C,GPIB,SPI,CAN/LIN communication
Flash/ROM writing
process such as download, program and verify can be done automatically by using ready-made programmers
Traceability
Inspection date can be saved as CSV format.
We'd love to help you boost your production efficiency.
Contact us.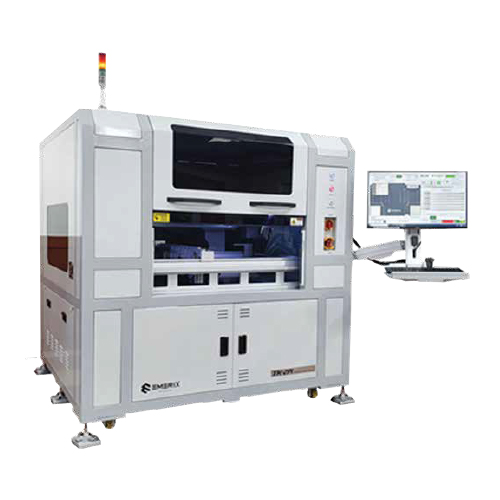 ---
Brand : EMERIX, Korea
FLYING PROBE TESTER
---
New Design Of XYZ With High Speed Controller
Optimized Probe Routing
Automated Calibration, Teaching and De-bugging
Soft touch technology.
Probing speed controls.
Automated test program generation from CAD data.
Full test data stored in csv format.
|   | TK-2 | TK-2X | TK-2R |
| --- | --- | --- | --- |
| UUT Probing | Single side | Single side | Single side |
| Probe Flying Heads | Dual | Dual | Dual |
| Footprint (LXWXH) | 1200X1100X1700 | 1350X1350X1750 | 1600X1500X1750 |
| Board Thickness (mm) | 4.5T | 8.0T | 8.0T |
| Max. Board Size (mm) | 380X240 | 440X470 | 670X670 |
We'd love to help you boost your production efficiency.
Contact us.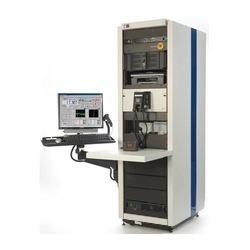 ---
ATE/EOL TEST EQUIPMENT
---
We provide compact ATE's platform along with fixturing solution for Bench-top as well as stand-alone testing. The test procedures can be customized and automated to meet the customers requirements with test steps & go/no-go limits program in the software window.
Input Power Meter
12 Channel Input Power Meter
Specifications
400V/5A, automatic range design
Resolution
0.01V/ 0.1mA/ 0.1W
Accuracy
0.1%
E-Load
12 Channel programmable electronic loads
Specifications
500V/10A/ 100W per channel
Working mode
CC/CV/CR/CP/LED
Expansion power by multi channel parallel
Resolution
0.005V/1mA/50mW
Accuracy
1%
We'd love to help you boost your production efficiency.
Contact us.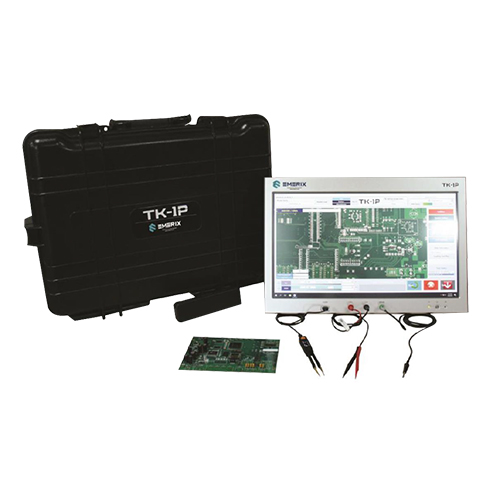 ---
Brand : EMERIX, Korea
Portable Trouble Shooting PCB Testers
---
Partial Area Test (Selection) or Full Array Test
Fixtureless Platform Inspection for NPI and RMA
Automated Teaching, Route Optimization & Guided Probing Routine with target UUT images
Easy programming and learning feature on Emerix software GUI
Full Test Data tracking in CSV or TEXT file format (traceability)
Build in Self-test and Smart tweezer simple auto adjustment (No calibration needed)
Testable SMD types 0201 using Smart Tweezer
No need for expert technician to operate, simple guided GUI
CAD Convertor to import CAD (optional) or start without CAD/Gerber, just target UUT images
Most affordable PCBA troubleshooting tools in the market
We'd love to help you boost your production efficiency.
Contact us.
PCBA functional test services utilize state-of-the-art test equipment to ensure the functionality and reliability of your assembled printed circuit board assemblies (PCBAs). With our advanced test equipment and expertise, we conduct comprehensive functional tests to validate the performance of your PCBA and ensure it meets the desired specifications.
Our PCBA test equipment includes a range of tools and systems designed for efficient and accurate functional testing. From automated test systems to custom test fixtures, we have the capabilities to test various aspects of your PCBA, including voltage levels, signal integrity, connectivity, and functionality of individual components.
With our ICT 2000 test equipment available, we have the flexibility to adapt to different PCBA designs and testing requirements. Our experienced engineers work closely with you to develop test strategies and procedures that align with your specific needs, ensuring thorough and precise functional testing of your PCBA assemblies.
Our comprehensive testing services help identify any issues or defects, enabling you to make necessary improvements and deliver flawless PCBA assemblies to your customers.