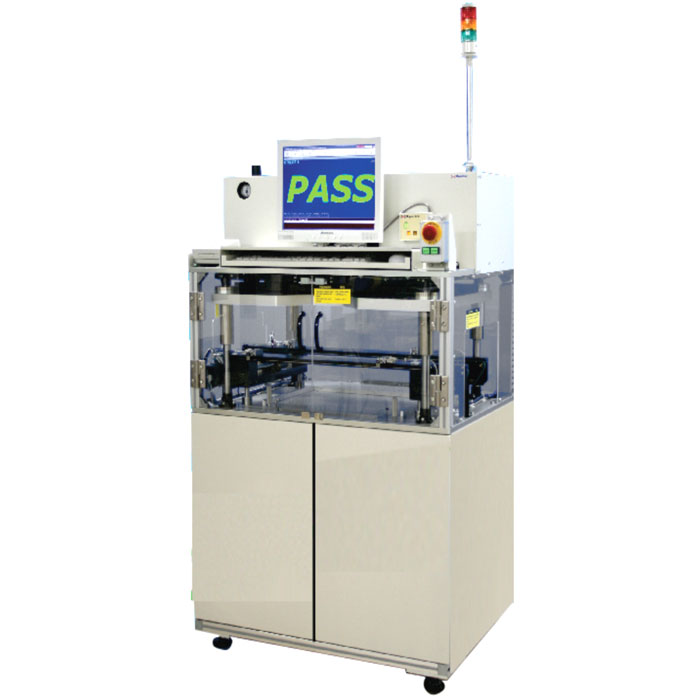 Brand: KYORITSU, Japan
INLINE ICT
---
Model: ALMAX-2000
Almax ICT is fully automated In-line ICT for high volume production
Built on industry's leading MDA + ICT
Easy maintenance and fixture change
Delivers the fastest ramp up of test coverage among all similar testers
Full automation capabilities reduce labour costs
Easy software for programming & debugging
We'd love to help you boost your production efficiency. Contact us.
| | |
| --- | --- |
| Max PCB size: | 250X330mm |
| Min PCB size: | 50X50mm |
| Board thickness | 0.8-1.6mm |
| Board weight | 1.2Kg |
| Top side component height | 70mm |
| Bottom side component height | 20mm |
| Direction of board travel | Right to Left (Std) or Left to Right (option) |
| Carriage height | 880mm ± 960mm |
| AC source supply | AC 100V |
| Operating Temperature | 5˚C-35˚C |
| Operating Humidity | 30%-80% |
| Dimensions | 860X680X1397 |
| Weight | 300Kg |
Similar Products
_

SMT Line Solutions

_
In-circuit testing is a critical aspect of electronics manufacturing, ensuring the functionality and quality of printed circuit boards (PCBs). We offer advanced in-circuit tester machines that provide efficient and accurate testing solutions.
Our in-circuit tester machines are designed to meet the demanding requirements of modern electronics production, offering reliable and precise testing capabilities.
Equipped with advanced testing mechanisms and cutting-edge technology, our in-circuit tester machines perform comprehensive tests on PCBs, detecting faults such as short circuits, open circuits, incorrect component values, and solder defects. These machines utilize a combination of electrical probes and sophisticated algorithms to analyze the functionality and integrity of the circuitry, ensuring optimal performance and reliability.
Our in-circuit tester system is designed for efficiency and ease of use. Operating these machines with intuitive interfaces and user-friendly software is seamless and straightforward. They are also equipped with features that facilitate quick and efficient testing, reducing testing time and increasing overall productivity.
Experience accurate and efficient testing results that meet industry standards and exceed customer expectations with our ict test equipment.