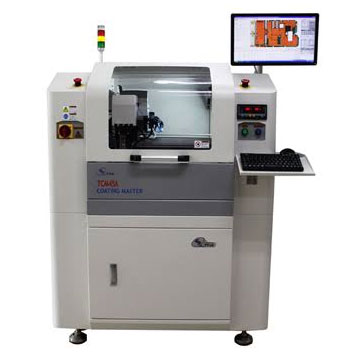 Brand: TTnS, Korea
Coating Workcell
---
TTnS conformal coating systems with the total solution can provide edge-defined transparent film build selectively in the inline production. The techniques of non-atomized film patterning, tri-mode spiral dispensing in addition to the focused curing ideas of TTnS patented, user-environment friendly. It comes true bubble-free selective dry film where almost no material losses exist. ln addition, it ensures double to triple up throughput (UPH) improvement as well as excellent material penetration plus adhesion by aids of TTnS unique coating technologies of "Intermittent Film Dispensing" and "Pulse-Controlled Spiral Spraying".
We'd love to help you boost your production efficiency.
Contact us.
Precision, 5-Axis Cartesian Robot
Equipped with Easy Coat Manager Software (ECM)
Dual Heads with Needle Checker
World Cutting-Edge Cutting Technologies
High Energy Saving more than 50% compared to usual IR Curing
PCBA Size : Min. 60(W) x 60(D)mm, Max. 360(W) x 350(D)mm with Standard Platform Max. 460(W) x 350(D)mm allowable with 2 Stepped (Extra) Platform
PCBA Thickness : 0.8(mm) – 4.0(mm)
PCBA Edge Clearance : Min of 3.5(mm) both sides
PCBA Pass-Line Height : FL(+)900±50(mm)
PCBA Transfer-Conveyor Running Speed : Max. 300(mm/sec) / adjustable by STEP motors
Motorized Width-Adjustment in RS25 Transfer-Conveyor / by STEP motor
Pulse Action : TTnS Exclusive, TPC999 millisecond scale, 4channels, Pulse Time Controller
Transfer-Conveyors : Run left to right
Transfer-Conveyors : Front-Rail Fixed
Communication : Compatible with SMEMA Interface, Spec. 1.2
Primary Electric Power : 220(VAC) x single phase x 50/60(Hz) x Max. 3(KVA)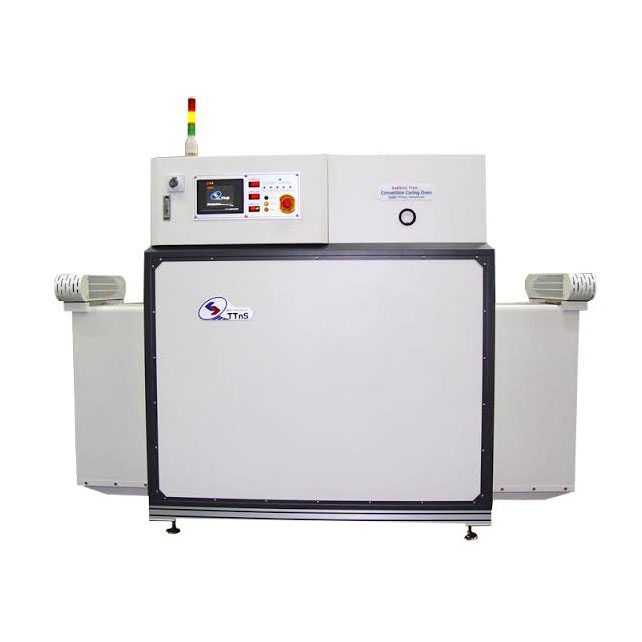 Brand: TTnS, Korea
Curing Oven
---
TTnS Convection Curing Oven basically runs at magazine basis and selective convection heating processed where the magazine of coating-works stacked repeats a cyclic moving as programmed. And it is mostly useful for curing solvent based materials such as acrylic, epoxy, urethane resin and rubber. Under the unique selective heating circumstances and/or with the reinforced system design eligible for US/Europe safety standards, precise SCR-control and wide-vision of advanced Touch program, ECO99C has accomplished a bubble-free solution, minimal 50% energy & working space savings in the fully automated continuous coating processes.
We'd love to help you boost your production efficiency.
Contact us.
Electric-powered, Convection Focused heating
Magazine-base curing creates Bubble-free Solution
Better working conditions, User & Environmental friendly
Free Knocked-down structure with advanced Insulation panel
Safety interlock of the systems
Primary Power Supply: 220(VAC) x 3phase x 50/60(Hz) x 32(Ampere) peak
Primary Compressed Air: min. 60(psi) at Ø6 hose, DCA
Fume Vent Stack: Ø125 at one place
Noise Level: ≤ 72dBA
Shipment System Weight: 960(Kg)
Space Requirement: 1,100(D) x 1,750(H) x 2,500(W) mm
Similar Products
_

SMT Line Solutions

_
A PCB conformal coating machine is an essential tool in the electronics manufacturing industry, designed to apply a protective coating to printed circuit boards (PCBs). This coating is a barrier, safeguarding the delicate components and circuitry from environmental factors such as moisture, dust, chemicals, and temperature fluctuations.
Conformal coating machines automate the coating process, ensuring consistent and uniform application, and enhancing the reliability and longevity of the PCBs. Conformal coating machines offer a range of features and capabilities to accommodate different production requirements. Depending on the desired application and coating material, these machines utilize advanced technologies such as selective coating, spray coating, or dip coating methods.
They are equipped with precision control systems that allow operators to adjust parameters such as coating thickness, speed, and coverage area, ensuring optimal results for various PCB designs.
A conformal coating system goes beyond the coating process itself. It includes components such as curing ovens or UV curing chambers, where the coated PCBs are exposed to heat or UV light to ensure proper drying and curing of the coating.