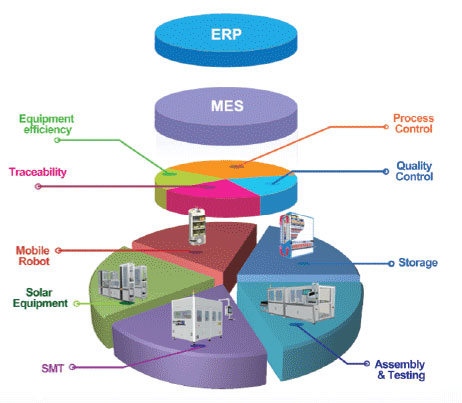 ---
V-Sky Soft
SMT Industry MES
Including warehouse management, production management, quality control and other modules.
Warehouse management:
enables your material registration to be completed in less than a second
Location management, first-in-first-out control
Humidity sensor management
Provide automatic component material tower solution (hardware + MES control, display automatic storage of materials, effectively save space and reduce labour costs)
Provide intelligent robot solution (hardware + MES management, achieve JIT feeding, achieve lean production)
We'd love to help you boost your production efficiency.
Contact us.
Smart Warehouse
Intelligent Warehouse Management:
Comprehensive material management and enhanced ERP
Real-time feedback inventory
Warehouse and interaction with the shop, automatic lean material requirements
The combination of robot and material tower makes distribution more automated
Characteristic:
Ability to maintain near-perfect inventory accuracy
Automated logistics displayed on mobile terminals
Advanced pull material logic operation
Real-time material consumption information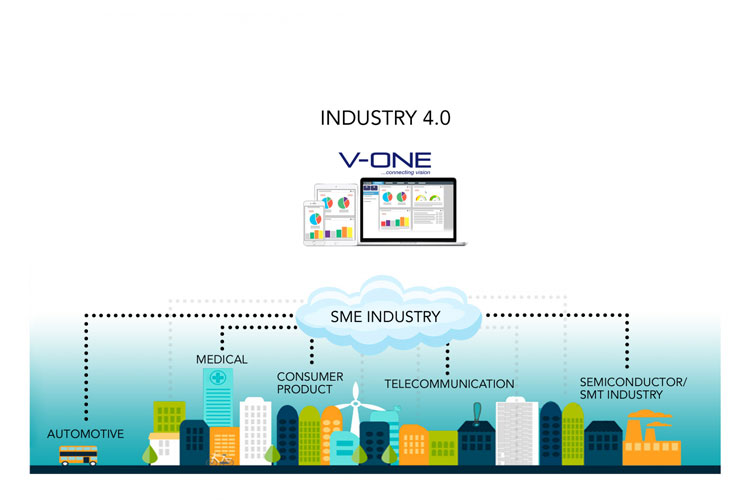 ---
V-One
DASH BOARD
Allows users to view the graphical chart based on process needs.
DATA ANALYSIS
Monitor process performance and execute production planning with different charts plotted from databases linked to V-ONE.
STATUS MONITORING
Provides continuous monitoring on production status and operational performance.
REMOTE CONTROL
Allows users to access machine PC to ease the troubleshooting process and perform fine-tuning remotely.
ALERT
Configurable V-ONE alert module based on different models with specific triggering conditions according to user requirements will automate the process monitoring.
TICKETING
Allows technicians or operators to manage assigned work orders and maintenance activities.
We'd love to help you boost your production efficiency.
Contact us.
Real Time Machine Monitoring
Predictive Maintenance
Integration with common database
OEE Monitoring
Yield monitoring
Call rate analysis
Mobile notification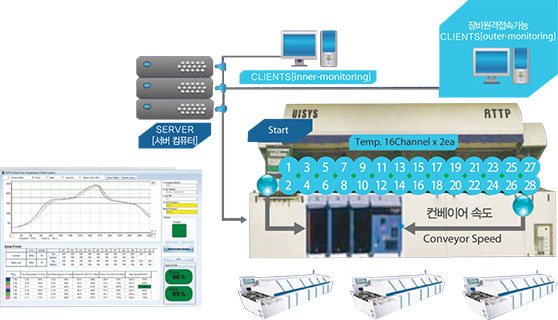 Model: UI-501
(RTTPS-REFLOW)
---
The system uses max. 32 channels temperature sensor fixed within the Reflow to detect any temperature changes and evaluate its real time status, while proximity sensors and photo sensors measures and monitors production environment of the conveyor belts and PCB thus enhancing productivity and preventing mass defects.
Model: UI-510
(RTTPS-WAVE)
---
The UI-510 RTTPS enables automatic profile by monitoring real-time temperature changes within the preheaters and solder pot/coolers, by fixing temperature sensors inside the wave machines. Proximity and impeller sensors enable changes in conveyor and motor speed, along with dip time, to improve productivity and preventing mass defects.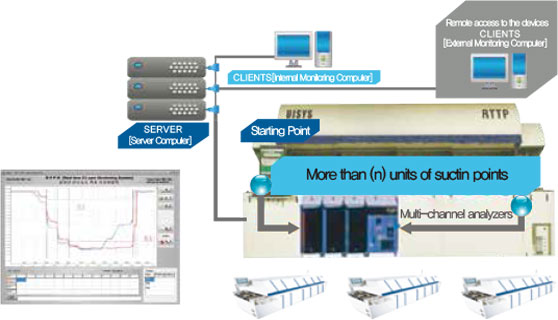 Model: UI-701
(RPPM)
---
UI-701 can realize profile automation by monitoring real-time oxygen distribution within equipment by fixing multi-channel suction points in the reflow machine, thus acquiring more than 30 profiles per day by checking continuous oxygen changes, along with enhanced productivity and prevention of mass defects.
We'd love to help you boost your production efficiency.
Contact us.
Specification
Minimum Requirement
OS
Windows 8
Processor/Memory
Pentium2 and later / 64MB and more
HDD / CD-ROM
64MB and more / CD-ROM (Program Installation)
Video Card / Connection
1024X768, 16 bit and more / RS232C