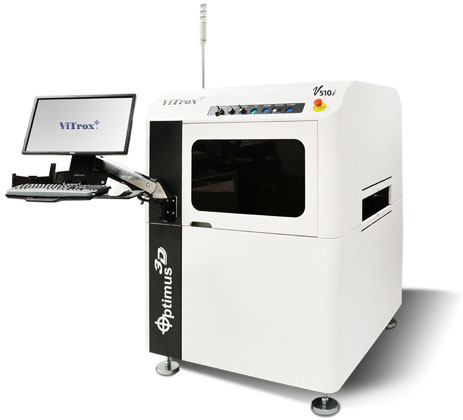 Brand: ViTrox, Malaysia
3D SPI/API
---
ViTrox's SPI is equipped with world fastest Gerber switching which supports 74x, 274d & CAD input
It is easy to use and convenient for editing
SPI supports manual programming even without the Gerber database
We'd love to help you boost your production efficiency. Contact us.
 

ITEM

Model
X5L
X6L
X8L
 

Metal Mask

rame Size
650*550mm
650*550mm
1000*1000mm
736*736mm
736*736mm
Print Origin
Center
 

 

PCBA

Min Size
50*50mm
Max Size
510*510mm
610*510mm
800*400mm
Thickness
0.4 – 6.0mm
Weight
Max 3.0Kg
Max 4.0Kg
Max 5.0Kg
 

 

 

 

Conveyor

Pass Line
920±30mm
Stage
Single Stage
Belts
Flat Belts(Anti-Static)
Time Belts
Clearance
Less Than 5.0mm both side
Components
+20mm / -20mm
Clamping
Edge / Vacuum Chamber / Multi-Point Clamp / Top Clamp
Width Adjust
Motorized Width Adjustment
Cycle Time
PCB Moving
7.5 Sec
8.5 Sec
10.5 Sec
Model Change
Less Than 10 min
Accuracy
Repeatability
±15 um
Squeegee
Material
Metal / Urethane
Direction
Front <-> Rear
Interface
SMEMA
Power
1Ø 200-230(VAC), 50/60(Hz), Less Than 2.0 KVA
Pneumatic
5-6 (bars) , 10Ø Air-hose,Max 150 l/min
Dimension
W*D*H
1428*1394*1548
1600*1530*1548
1750*1530*1548
Weight
Approx
950 Kg
1000 Kg
1100 Kg
Similar Products
_

SMT Line Solutions

_
In the realm of electronics manufacturing, ensuring precise solder paste application is essential for the reliability and functionality of printed circuit boards (PCBs). At Kyoritsu Electric India, we offer state-of-the-art 3D solder paste inspection machines that provide advanced and accurate inspection solutions. Our 3D solder paste inspection machines are designed to streamline the inspection process and optimize the quality control of solder paste deposition.
Equipped with cutting-edge technology, our 3D solder paste inspection systems utilize high-resolution cameras and sophisticated algorithms to analyze the solder paste deposits with exceptional precision. These machines can capture detailed 3D images, allowing for a comprehensive inspection of solder volume, height, shape, and alignment. With this level of review, potential defects such as insufficient or excess solder paste, bridging, and misalignment can be quickly identified and rectified, ensuring optimal solder joint quality.
Our solder paste inspection machines are built for reliability and efficiency. They offer fast inspection speeds without compromising accuracy, enabling seamless integration into your production line. With user-friendly interfaces and intuitive software, operating our machines is straightforward, facilitating efficient inspection processes.
By investing in our advanced solder paste inspection equipment, you can significantly enhance the quality control of your PCB assembly. Our 3D solder paste inspection machines provide unmatched precision and reliability, minimizing defects and optimizing production yield.