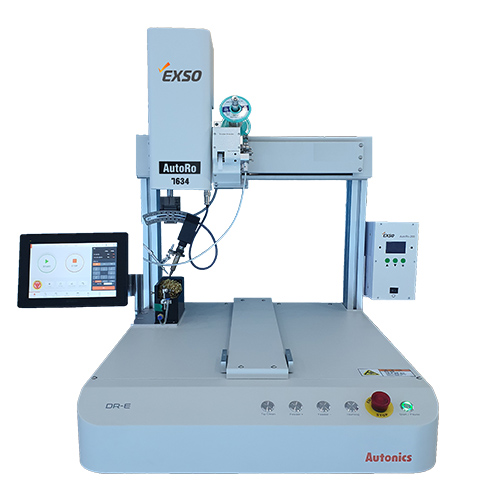 ---
Brand: EXSO, Korea
AutoRo-7634
AutoRo-7634 is a 4-axis based desktop robot with automatic soldering function.
It is simple to create a program using a touch type APC and is easy to learn.
As a Windows-based dedicated program, it can control I/O and LAN PORT, so it is highly scalable.
In order to prevent the flux contained in the wire solder from scattering, a perforation system is applied to the lead feeder.
The soldering iron unit can be adjusted in a 360° direction for a variety of tasks.
In the soldering process, the soldering tip has fast heat recovery and long life.
It is a Windows-based dedicated program and has high scalability.
Production and defect rate management can be efficiently managed by using the report creation function for defect management.
Cutting Speed
0~1000mm/sec.
Power Supply
200W
Output voltage
AC36V, 400KHZ
Temperature control range
50~600℃
Ambient temperature
40℃
Temperature error range
±2℃
Material
Aluminum Alloy
Size
110×200×200㎜
Weight
4.8kg
Iron tip and ground resistance
<2Ω
Leakage voltage
<2mV
Tip-charged body
IR >5MΩ
Electromagnetic heating core Electromagnetic heating core
We'd love to help you boost your production efficiency.
Contact us.
Similar Products
_

PCBA EQUIPMENT SOLUTIONS

_